Panel Discussion and Q & A: Climate and Perspectives On Overpopulation, Loss Of Biodiversity And Stewardship
The panel discussion called Climate and Perspectives on Overpopulation, Loss of Biodiversity and Stewardship was held Wednesday, June 14, 2017 from 4 to 6 PM in the Union Station Auditorium at Cape Fear Community College.
The panel consisted of artists, scientists and volunteers who are closely connected with nature and all have a personal love of the world. Together we will strive to identify the most pressing concerns for this earth and through an open discussion with you, the audience, present solutions, inspiration and responses so that all of us can be forces for change.
The artist says "This group of distinguished scientists, artists, and volunteers share with me a healthy relationship with nature and an individual commitment to protect our natural environment. The panel will share the work they are doing through visuals and present solutions, inspiration and responses to the audience. Seeking unity and believing that pooling our resources will make our earth a more hopeful and healthy place, we invite you to participate with us in the discussion. Panel members were present at the exhibit opening, sharing and talking with visitors. These friends of the environment and mine have educated and collaborated with me to explore nature connectedness which I embody in my artwork. Thus they are "collaborators" in my and your journey". – Janette K Hopper
Panel Members - Environmental Voices:
Dr. Alina Szmant, UNCW Marine Biologist,
Rhonda Sturgil, Environmental Studies and Controlled Burns, The Nature Conservancy.
Dr. Lisa Kelly, Professor of Ecology at UNCP.
Chantay Allen, Cape Fear River Watch Board Member
Phoebe Hood, Volunteer for sea turtle rescue and rehabilitation
Panel Members - Artistic Voices:
Karola Luttringhaus, Dance/Choreography, Scene Design, Set Design, Sarus Director, Leader of the Alban Elved Dance Company.
Janette K. Hopper, MFA, Multi Media Artist.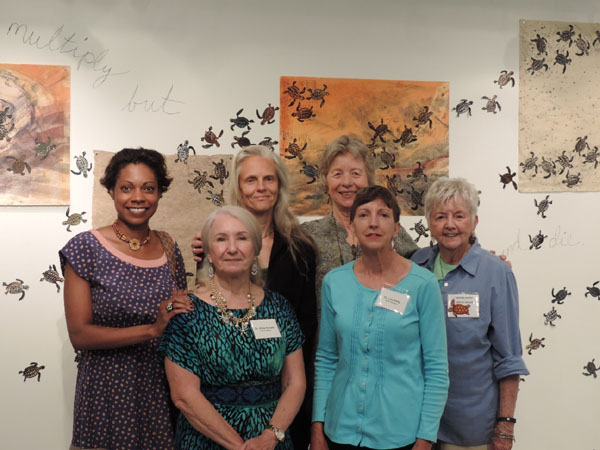 The Panel at the Gallery Opening Reception. Background is the Turtle Boil Installation
(Not shown – Rhonda Sturgill)