Sea Turtle Environs.
A projection art installation later turned into a short film. The installation was in the Wilma Daniels Gallery on the Campus of Cape Fear Community College as part of Hopper's solo show "Natural Milieu: An Altered Point of View, Recent Works and New Genre Collaborations". This a video of a movie ("Endangered Turtle" Directed by Dr Alina Smantz, Compiled by Ross Miller, Music Composed by Steve Heitzig, with Cellist Emanuel Gruber) which was projected over 6 large monoprints, with the sound of seascapes and voice overs of haikus added. The video "Sea Turtle Environs" was conceived and directed by Janette Hopper who also did the monoprints and wrote the haikus. Seascape sounds and filming and editing by Charles Kernan with help from Dan Baden. https://vimeo.com/219703078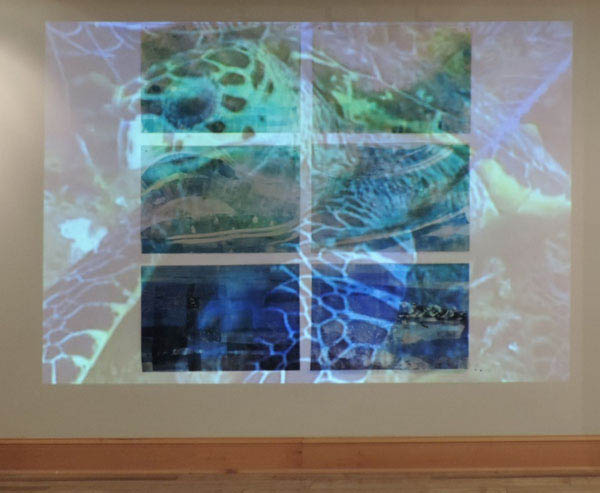 A still from The Sea Turtle Environs Installation. The installation was accompanied by sounds of the sea. The film includes original music, haikus sounds of the sea and projection on monoprints.
Island Inspirations
"Old Baldy" is not just a beacon to tourists. It (and the island it watches over) brings inspiration to a special group of artists. Against the spectacular seascape, they gather biannually to engage in the creative process. They also come for another purpose...to sell some of their paintings in order to help disadvantaged artists through a Dutch non-profit called Paint a Future. Meet these talented artists and see why Bald Head Island keeps beckoning their return.
The No Boundaries portion. Janette Hopper starts at 2:35